Ask An Elder Law Attorney
March 9, 2017
1:30 pm - 3:00 pm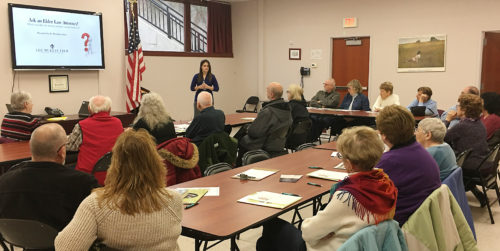 PLEASE NOTE TIME CHANGE: Seminar will be held from 1:30 p.m. – 3 p.m. Karen Ann Quinlan Hospice will again host Andrea DiDio of the Murray Firm to answer questions you may have regarding Elder Law.
" Come meet the 3 Specialist Everyone should consult as they Age."
Ever wonder how to get the most of out of your Social Security Retirement and Medicare Benefits? Do you know how a complete estate plan can protect you, your family, and your assets? The topic of this informal, no sales seminar will be: Social Security, Medicare & Medicare Supplemental Plans, and the importance of estate planning.
The event is free to the public. Pre-registration is requested by calling 973-383-0115 ext. 145. Light refreshments will be served. Please prepare any questions you may have so that we can address your concerns. The event will be held at the Pike County Public Library located on 119 E. Harford Street in Milford, PA. 
Our Guest Speakers will be:
Social Security Specialist, Russell F. Gloor, Certified Social Security Advisor
Medicare Specialist, Theresa J. Yarosh, CFP®, CLU®, ChFC®, Founder and President
 Estate Planning Attorney, Andrea R. Di Dio, The Murray Firm, LLC
---
Seeing an error? Please contact us directly at 1-800-882-1117 for assistance.