Become a Hospice Volunteer
September 5, 2017
10:00 am - 12:00 pm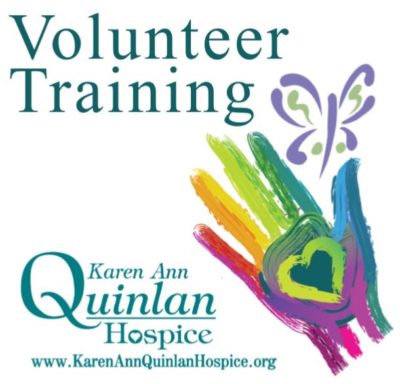 Six Sussex County Classes will run from 10:00 a.m. – 12 Noon
Tuesday and Friday mornings, September 5, 8, 12, 15, 19 and 22 graduating on Tuesday, September 26th.
Classes will be held at: The Joseph T. Quinlan Bereavement Center, 5 Plains Road, Augusta, NJ 07822
Course topics include:
Presentations from Hospice Nurse, Social Worker, Bereavement Counselor and Chaplain
Ways to support others and ourselves when faced with a terminal illness.
The social, emotional, spiritual and physical needs of the dying person and their family.
Upon completion, participants are Certified Hospice Volunteers
Hospice Volunteers are also welcomed to participate in agency fundraisers, administrative assistance and/or a member of Friends of Karen Ann Quinlan Hospice.
Hospice Volunteers have the option of working in their communities and establishing their own schedules with allowable services they are willing to provide for the organization.
To be an active patient care volunteer, individuals shall not have experienced a significant loss within the last year.
For information and required registration please call Sue Dougherty, Volunteer  Coordinator at 973-383-0115 or 800-882-1117. Or email her at sdougherty@karenannquinlanhospice.org. 
Please click here to register for the class today.
---
Seeing an error? Please contact us directly at 1-800-882-1117 for assistance.