Celebrate Life 5k Walk
September 30, 2017
9:00 am - 11:00 am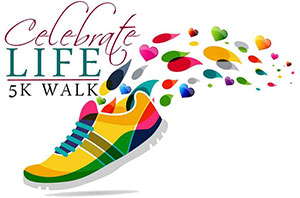 There are many different ways to celebrate the life of a loved one who has passed away. Karen Ann Quinlan Hospice is inviting you and your family to our 2nd Annual Celebrate Life 5k Walk on September 30.
A life so beautifully lived deserves to be beautifully remembered.
The Celebrate Life 5k Walk raises funds for the Joseph T. Quinlan Bereavement Center. The Center, located on 5 Plains Road in Augusta, offers group and individual counseling to those who are suffering from a loss.
The Center is completely funded through donations and no one is ever refused service based on their inability to pay.
Please use the form below to register. Use the inside scroll bar to completely fill out the form, submit your credit card information and click the submit button. If you have trouble accessing the form please click here. If you would like to download a printable form, please click here.
If you would like to be a vendor at the Celebrate Life please click here for vendor form and details.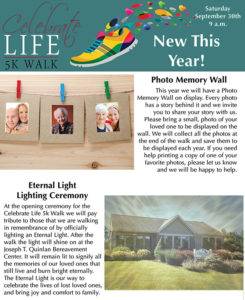 Click the graphic to see what's new this year!
2016 Celebrate Life 5k Walk Photo Gallery
---
Seeing an error? Please contact us directly at 1-800-882-1117 for assistance.