SK Paper Shred Event
May 14, 2016
9:00 am - 12:00 pm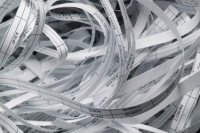 Thank you to SK Paper Shred and event attendees for another great year.
2016 marks the 10th year anniversary for the SK Paper Shred Events to Benefit Karen Ann Quinlan Hospice! Protect Yourself and Prevent Your Company Documents from Getting into the Wrong Hands! With identity theft and proper document disposal being in the forefront of personal and organization security, make this worthwhile fundraiser a regular stop on your monthly calendar. Have your confidential documents professionally shredded on site in SK Paper Shred's Commercial/Computerized Shred Trucks. $6.00 for each paper grocery-sized bag shredded.
Pre-purchase and SK Paper Shred bag for $5.00 — save money and time by simply dropping off your pre-paid material at any of the 2015 Paper Shred Events.
---
Hosted at Karen Ann Quinlan Hospice
99 Sparta Avenue, Newton, New Jersey
---
Call (973) 383-0115 for information/registration or email: jsmith@karenannquinlanhospice.org
The event "SK Paper Shred Events - May 2016" is no longer active.
---
Seeing an error? Please contact us directly at 1-800-882-1117 for assistance.