The Jungle – Kids Summer Session
July 9, 2019
1:00 pm - 3:00 pm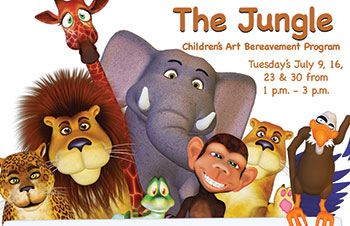 The theme of this year's Summer Session for children ages 5-12 who have experienced the loss of a loved one through death is "The Jungle."
The sessions will held on Tuesdays from 1 p.m. – 3 p.m. at the Joseph T. Quinlan Bereavement Center located on 5 Plains Road in Augusta, NJ.
Tuesday, July 9th
Tuesday, July 16th
Tuesday, July 23rd
Tuesday, July 30th
Please call 973-948-2283 for more information. Registration is $100 and scholarships are available.
---
Seeing an error? Please contact us directly at 1-800-882-1117 for assistance.